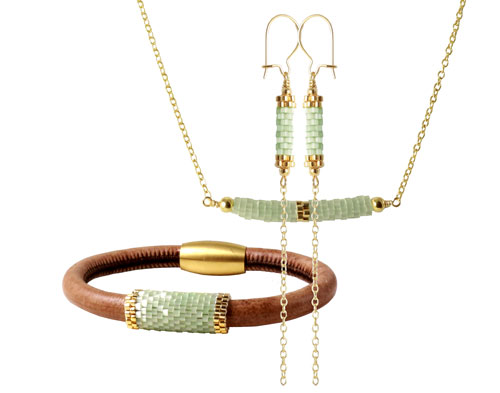 In this blog entry, we'll show you a line of jewelry and pendants based on the simple beading tecniquie Peyote stitch. The different tube shapes are all made in the same way, only varying in length and width. We have created a small collection, which you can use as inspiration. You'll find a flash guide further down in the text, and you can probably find more elaborate tutorials on Youtube if necessary.
Smyks sell a wide selection of Delica beads, and have just gotten some in beautiful spring colours, including many iridescent pastel colours.
Buy Smyks Jewelery starter kit for Peyote stitch here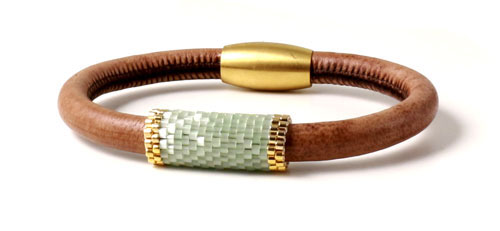 For this rustic bracelet, we have used:
approx. 18cm. round-stitched 5mm rustic speckled brown leather cord
1 gilded 5mm magnetic clasp
Delica beads in sea green, and in 24K gold inlaid glass.
The beads are sewn together with 2 m of white 6LB Fireline. Thread it with a fine needle, or on a wide-eye beading needle.
Cut your desired length of leather cord, and glue it into the magnetic clasp. The tube bead is made with peyote stitch – our tutorial is found further down.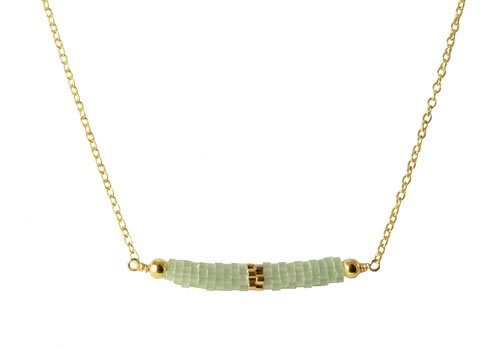 This necklace is made with the same beads as the bracelet. After making your tube bead, take a piece of gilded 0.5mm wire and make an eye in one end with a round-nosed plier. Pull a 4mm gilded bead onto the wire, then the tube bead, and then another 4mm gilded bead. Finish off with another eye. You have now made your pendant, and can attach it to the chain. Here we have used an AR30 jewelry cable chain. you can also choose to attach the pendant to the chain using 3mm gilded jump rings.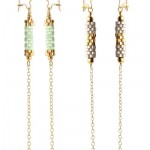 For these earrings, you'll need the same Delica beads used in the bracelet. You create the tube with Peyote stitching, the length of the tube is all up to you. You'll find the tutorial below – it isn't as hard as you'd think.
This is how you do it: Take a gilded eyepin and carefully open the eye a little. Attach the chainand close the eye again. In the example, we have used approximately 4cm of gilded AR30 cable chain. Then add a 2.5mm gilded bead on the eyepin, and pull it through the tube bead. Lastly add another bead. Then create another eye at the end of the bead. Then just add the finished earring to the earwire.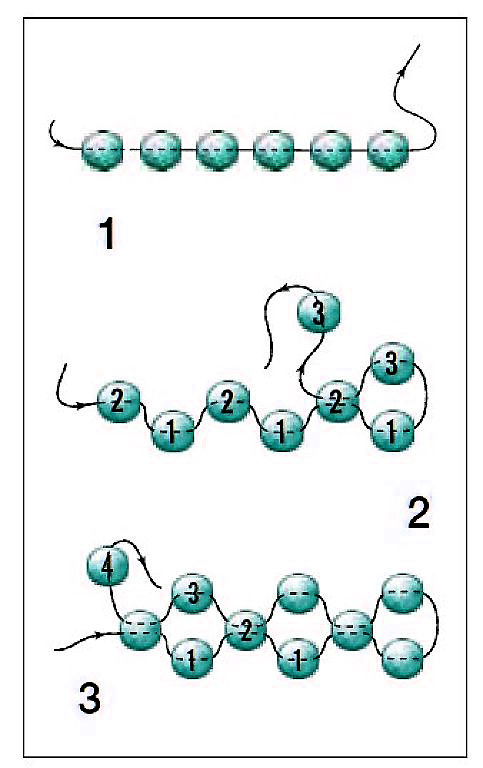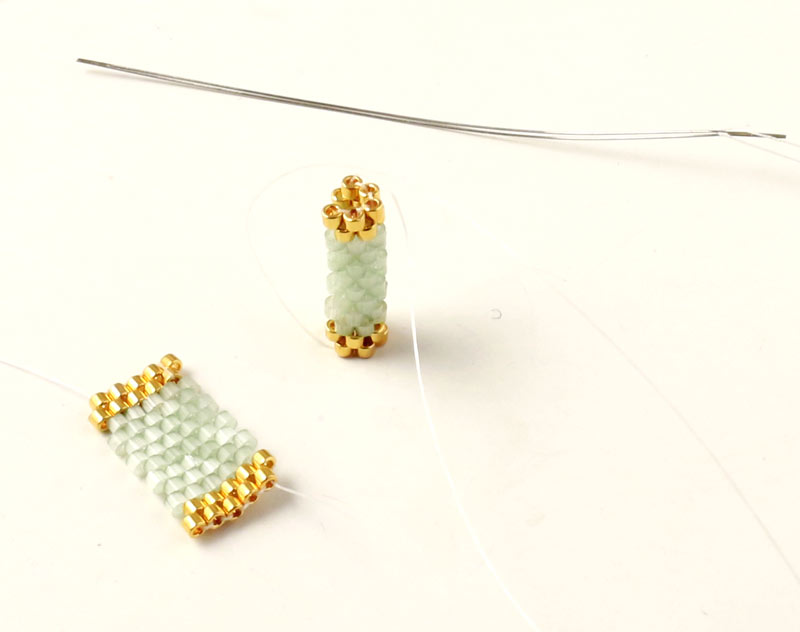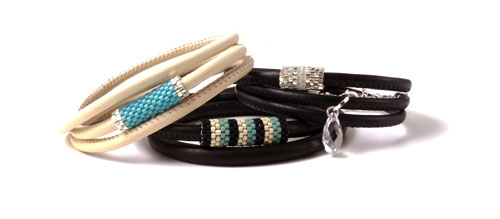 Right above, you find more examples with peyote stitching patterns.
If you have a question, comment or an idea, feel free to write it in the comment section below.
Enjoy
Smyks