Make your own exclusive Swarovski crystal skull earrings at Smyks.com


Smyks have recieved these beautiful faceted skulls made from Swarovski crystal. Here they're used in earrings, but they can also be used as pendants in necklaces, or as charms in bracelets. Showcased here are Swarovski skulls in the colours: Silver-Night, Golden Sand and clear crystal.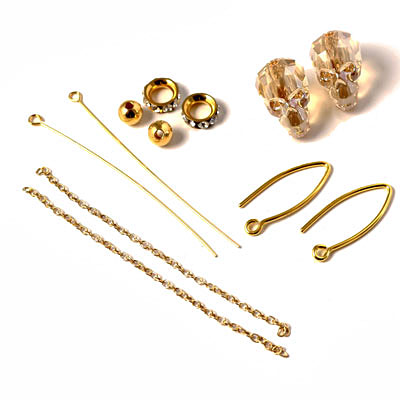 You'll need the following materials:
2pcs. skulls in Swarovski crystal
2pcs. headpins with eye in gilded sterling silver
2pcs. chain, approx. 6 cm, gilded (double) ar30
2pcs. crystal spacer/connecter bead, gilded 8x3mm
2pcs. gilded brass 5mm bead
1 pair of gilded stearling silver earwires

Start by opening the eye in the headpin with a Flat-Nose plier and attach the chain. Next, feed the wire through the skull.

Then apply your decoration to the headpin. Here, a connecter bead with crystals and a 5mm gilded brass bead is used.
With the use of a pair of round-nosed pliers, an eye is then created from the headpin.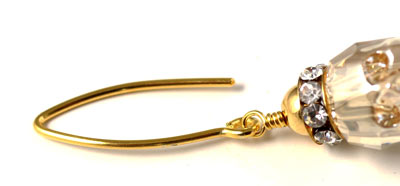 Lastly, you open the eye in the earwire with a Flat-Nosed plier so you can hook the skull onto the earwire. Your earring is now finished.
Have fun.