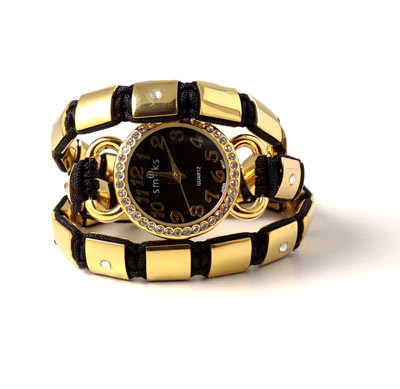 Smyks' big assortment of square steel beads are here used as the chain for this wrist watch. The steel square beads are available with and without crystal, and are found in the colours gold, steel and black. The classic method of macramé knotting has been used to create the chain, and it is finished with a macnetic clasp.
To create this watch with three inversions you'll need:
1pc. watch face
Up to 32pcs. of square steel 20x20mm beads (here we have used 12 in crystal embellished gold, as well as 20 in gold without crystal)
5 meters of black 1,5mm nylon cord (you'll need approx. 2×1 meter cord for the center cord and 2×1,5 meter for knotting)
1pc. gilded 6mm magnetic clasp
Start off by folding and connecting one of the 1 meter center cords with the watch face as shown.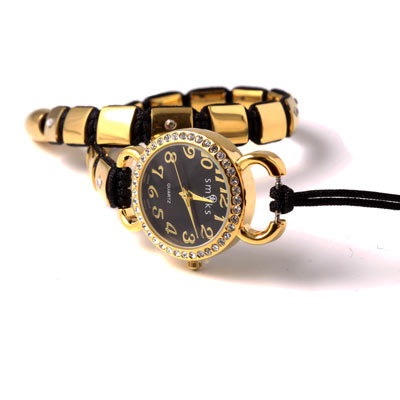 Tighten the lark's head knot and make sure that the cord is folded on the middle.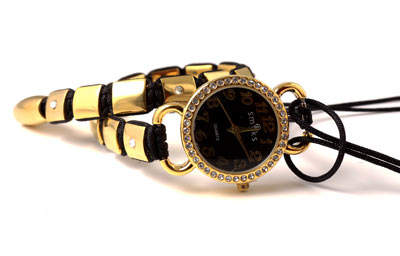 Then create another knot with the 1,5 meter cord over the first one , using the same lark's head knotting method.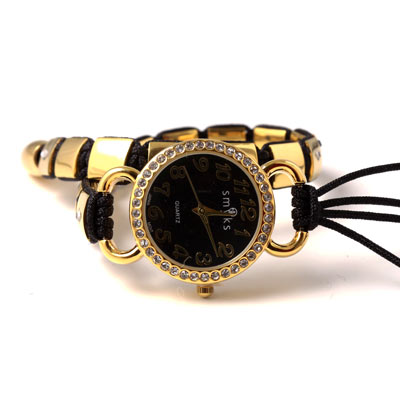 Tighten, and now you have secured all your cords, both the two center cords and your knotting cord.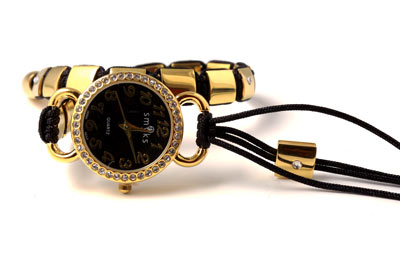 Now thread the square steel bead on the two center cords, here we have used a 10x10mm embellished square bead.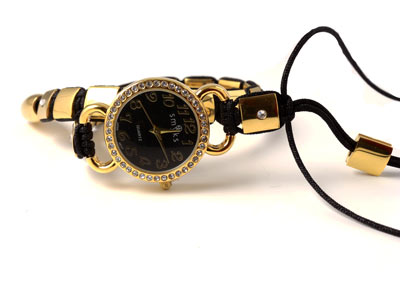 Now you start knotting. The square steel beads each have a groove on each side to ensure that the cord is tight and neat up against against the bead and securing it in place. In this version of the watch, one square embellished steel bead is followed by two beads in plain gold, and then another embellished one.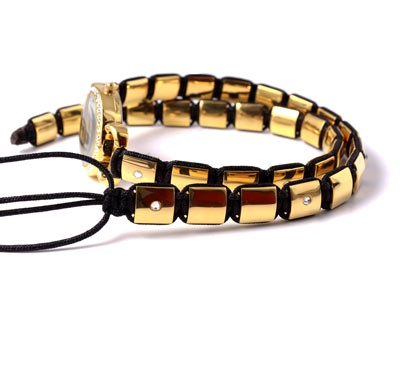 You finish the wrist watch with two square knots.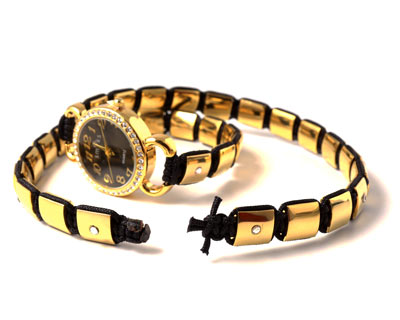 Cut the cords a little way from the knots and burn the ends until it reaches the knot, hereby sealing it. Now use a pair of Flat-Nose pliers to squeeze the together a little so it becomes around and fits into the magnetic clasp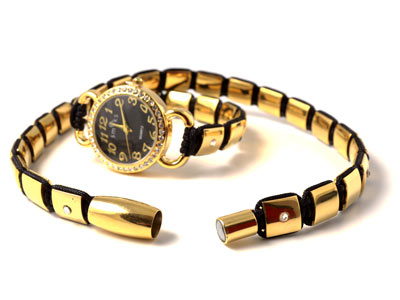 Now glue the ends into the magnetic clasp.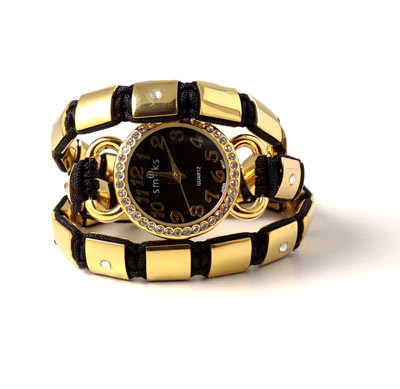 Your wrist watch is now finished. If you desire a smaller/cheaper variant, you can simply make a chain that goes around the wrist just once.
See Smyks' big assortment of watch faces and square beads and create your own design with your own colour combination.