Below we'll show you how to make a colourful and original necklace with pendants of fish skin.
Smyks sells robust salmon fish skin dyed in beautiful colours for cheap. You can easily cut beautiful shapes from the skins yourself, and use them as pendants in necklaces, earrings and such.
See also Smyks' related blog entry on earrings made of salmon skin.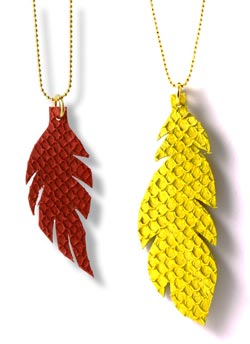 You'll need the following materials to make the necklace:
A piece of salmon skin
A template
80cm of gilded ball chain with connector bead (included)
8mm gilded jumpring
Furthermore you'll need a awl or, as shown beneath, a hole punch unit to create a hole in the pendant for the jumpring.
Scissors or an X-acto knife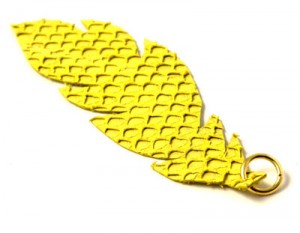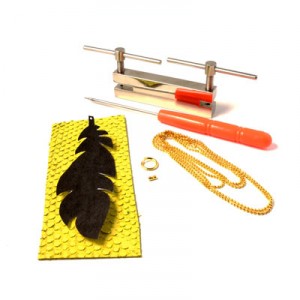 Start by cutting the template out of paper, draw it on the backside f the skin with a pencil, and next cut out the figure. Lastly you make a hole at the top of the leaf with either an awl or a hole punch unit. Smyks sells some practical hole punching units for jewelry parts, which can also be used to make holes in skin, see above.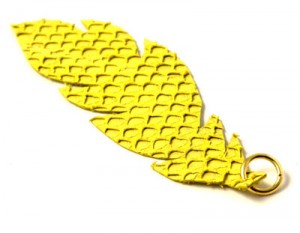 Now you put the opening jumpring through the little hole and close the jumpring with a pair of flat-nose pliers, so that the pendant doesn't fall out. Pull the chain through the jumpring and connect the chain with the corresponding connector bead.
Voila! Your necklace is now done.
You can also experiment with several pendants on top of each other in different sizes and colours, or you can add to it with the small gilded stars, hearts or tassels which can hang alongside the pendant.
Feel free to use Smyks' pendant suggestions by using our templates which can be downloaded and printed out, or draw your very own designs.
Enjoy.