How to make a bracelet with small pearls of semi-precious stones
Smyks.com has a large selection of small beads in semi-precious stone, which are well suited for many jewelery purposes. In the following we show how they can be used to make beautiful bracelets.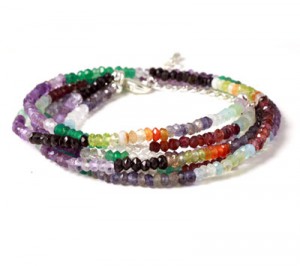 This bracelet with 6 rows is made of a mix of small semi-precious stones. At Smyks you can buy these whole strands of mixed semi-precious stone beads. This is a perfect opportunity for you to try out some colours without having to invest in a whole strand of each kind of stone. The beads, which are quite small and delicate are also faceted by hand and has a beautiful shine to them.
For related blog posts please look here:
DIY Necklace with beading wire
DIY Bracelet with scre-tite cord ends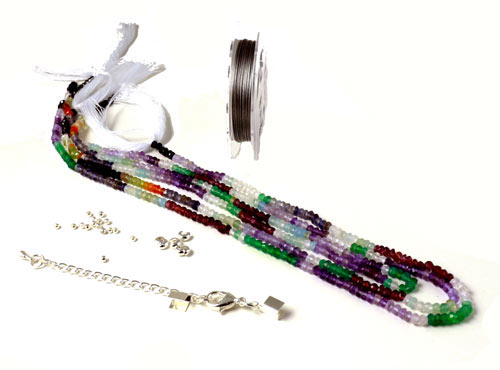 Here we have used a clasp with an accompanying chain extension which makes the bracelet adjustable in length.
This bracelet consists of 3 rows of beads, each approx. 34cm long which is wrapped around the wrist twice, creating a bracelet with 6 wrappings in total. Of course you can make the bracelet with precisely the number of rows and wrappings you'd like, each wrap requires approx. 17cm of beads + clasp.
You need the followingmaterials:
3 pearl strands of your own choise with small semi-precious stone beads
50 cm of thin tiger tail beading wire 0.3mm
6pcs silver plated crimps
6pcs silver plated crimp covers/ bead tip
1 set of Silver plated lobster claw clasp set with chain extender.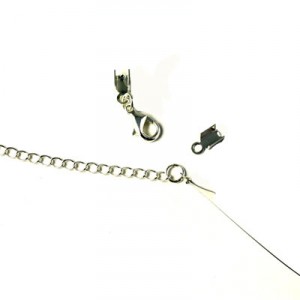 This clasp set consists of a chain, a lobster claw clasp as well as two two end pieces. You start out by opening the jumprings in each end and removing the end pieces, you won't need them. Next you take a piece of beading wire of approx. 45cm, put a crimp bead on the wire, and thread it through the jumpring and back through the crimp bead.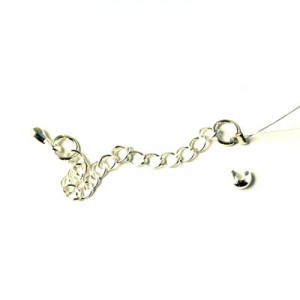 Pull the eye tightly around the jumpring and squeeze the crimp bead flat with your needle nose pliers, and squeeze tightly so it doesn't open. Now cover your crimp bead with your crimp cover. Squeeze the crimp cover around the flat crimp bead so this is hidden inside and a little ball is created around it. It isn't absolute necessary to use a crimp cover, but it does give the bracelet a nicer finish.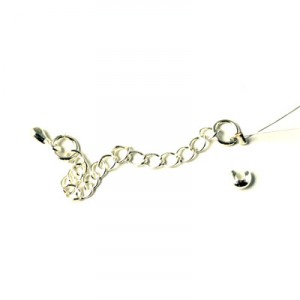 Now thread your beads on the wire, and trim the excess wire when you're done.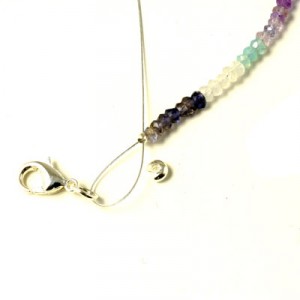 When your chain is long enough, (here we have used a length of 34cm), thread the wire through another crimp bead, then through the other jumpring, and then back through the crimpe bead, exactly like before. Then squeeze the crimp bead flat and hide it with a crimp cover.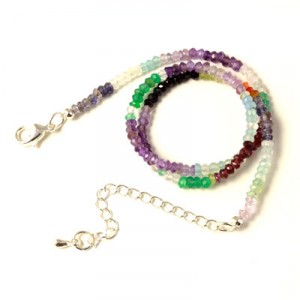 Your bracelet should now look like this, it has a lobster claw clasp in one end and a piece of chain in the other. Of course you can make this bracelet without a chain in the one end, but it does make bracelet adjustable in length. You can make two more bracelet in the same way, and secure them to the same two jumprings to which the first bead string is attached.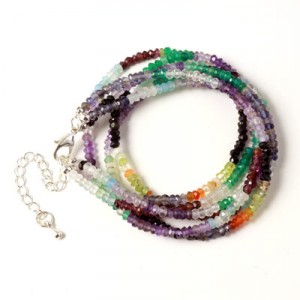 Above you see the finished bracelet where all 3 bead strings are secured in the same jumpring in both ends, and then wrapped twice per string.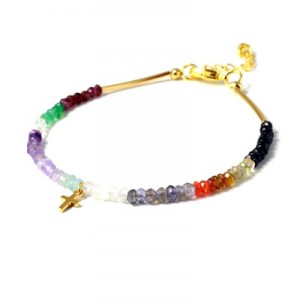 If you have a some beads left, but perhaps not enough to make another bracelet, you can attach tubes in each end, which gives it the bracelet a nice finish. Potentially, you can attach some smaller charms, here we have used a little cross as a charm. you find Smyks' assortment of silver coated tubes here, and the gilded ones here.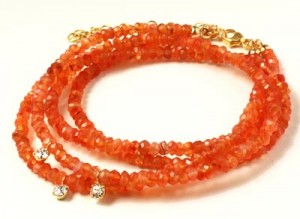 Here is another example but with 4 rows of carnelian beads, crystal pendants and a gilded clasp.
You find the small Swarovski crystal pendants here
and carnelian beads here. Note that we have used 2 bead strings for this bracelet.
The bracelet is made like the one explained above.
Enjoy your bracelets.