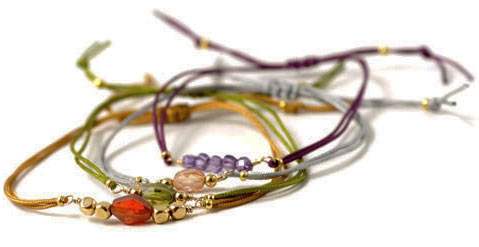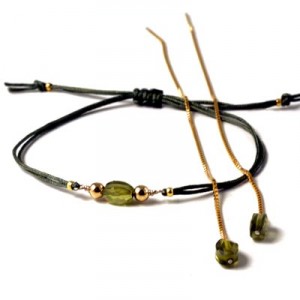 Make yourself a fine jewelery set with a bracelet and earrings with faceted zirconia stones.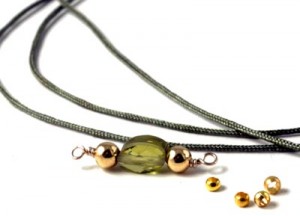 You will need the following materials for the bracelet:
1 pc. green zirconia 6x4mm
dublé wire 0.4 mm
4. gilded crimp beads
1 meter army green nylon cord 0.9mm.
You start by creating an eye at one end of the dublé wire. Then attach a gilded brass bead/zirconia/gilded brass bead, and create another eye at the other end of the wire.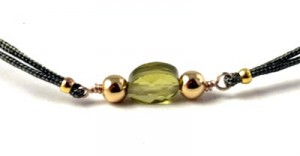 Cut the nylon cord in 3 pieces, respectively, 40cm, 40cm and 10cm. Thread the 2 40cm strings through each eye, and then put a crimp bead over both cords. It's easier to get the string through the crimp bead if you burn the ends a little with your lighter.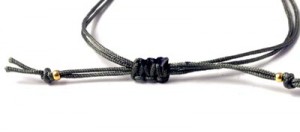 Then finish the bracelet with a classic knot and add a crimp bead as decoration at each end.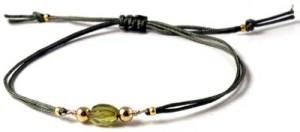 And your bracelet is finished.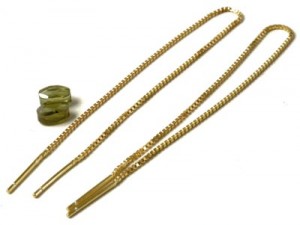 For the earrings you need the following materials:
2 pcs. green zirconia 6x4mm (same as for the bracelet)
1 pair of gilded earthreads with pegs at both ends
and jewelery glue.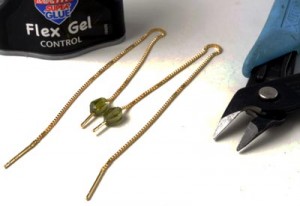 Put a little bit of glue on the peg and then gently "screw" the zirconia on so that the glue is evenly distributed. Leave it to dry for approx. 10 minutes, then cut off the excess peg.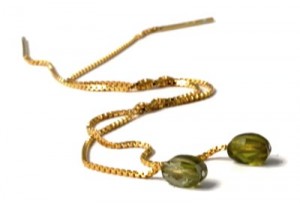 Your beautiful earrings are finished, super simple. Maybe you'll like to try using other colours and beads.