Create elegant earrings with earthreads and small delicate pendants


At Smyks.com you can buy the popular earthreads in silver, gilded and oxidized – in two lengths: 7.5cm and 12cm. The earthread consists of a box-chain jewelry chain with a peg at one end and an hoop at the other. This example shows a very simple design, where we have chosen twisted rings as decoration. There is used a 3 mm jumpring for connecting the twisted ring with the hoop at the end of the chain.
Here are a few more designs that hopefully will inspire you to design your own earrings.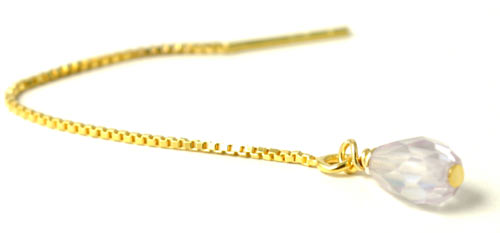 With a faceted zirconia-drop

With an Aventurine link (one eye on the link is cut off with a nipper)
Ørekæde med kuglevedhæng

With a small gilded sphere pendant

We also have these ear-threads with a peg at both ends. They are available in 8 and 14cm lengths, in sterling silver, black oxidised silver and gold-plated sterling silver. The pegs are suitable to glue in a bead and you can easily cut the length if needed. If you want, you can use the conic rubber earnuts as they are not too tight to take on and off. Too tight earnuts can result in the peg being pulled off the chain.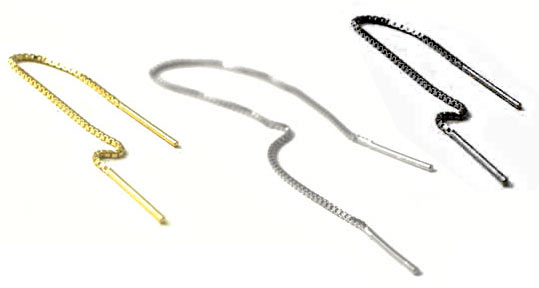 For related blogs see Jewelry set with mini bracelet and earrings with chain