We now have small 12mm ceramic stars in delicate colours at Smyks.com
Here you can learn how to quickly and easily make a new pair of earrings by mixing small and large ceramic stars, and putting them on a pair of hoops.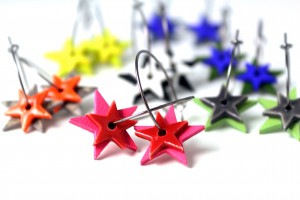 Above is a mix of large leather stars and small ceramic Stars. It gives your earrings a whole other look when mixing ceramics and leather. You can easily make a hole in the leather stars with an awl, but remember to mark the hole with a pen first.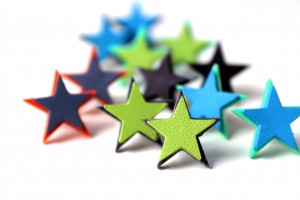 In this photo we glued a small leather star on top of a large ceramic star. They are then glued onto an earstud with a 5mm plate. Always use real jewelry glue for the purpose, contact adhesive does not last you very long.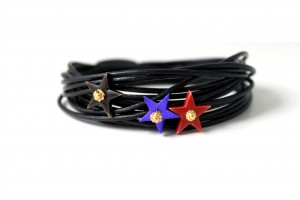 This bracelet is made by gluing 5 leather cords into a magnetic clasp. Headpins are used to make small eyes on the back of the small ceramic stars. The leather cord is fed through these eyes (before gluing the cord into the clasp). The bracelet can go 3 times around the wrist.