Earrings and earstuds with a chain are elegant and simple to make yourself.
Shown below are a series of exampled for inspiration. All jewelry supplies are available at Smyks.com, but resevations are made for products no longer in stock.
It's practical to have both Chain-Nose pliers, Round-Nose-Pliers and Flat-Nose pliers at hand when you begin.


Make your own long chain earrings. In the examples, the following materials have been used:
1 pair of gilded earstuds with ball and eye
2pcs. cubic Zirconia stones, 7x5mm, oval
10cm cable chain dublé, AR30 12 cm
Gilded dublé wire in either 0,4mm or 0,5mm
Take approx. 6cm dublé wire and create an eye on each side of the bead or pearl. When you create the eye, you connect with respectively the chain and the eye of the earstud before you spin the wire and secure it. This way there's no use for jumprings to attach the parts together.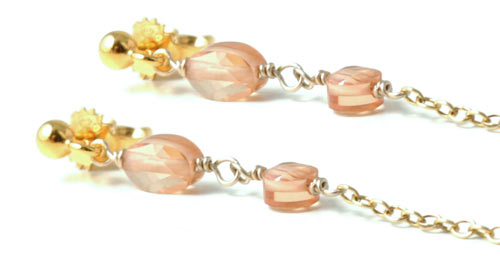 For these earrings, two different size Cubic Zirconia are used in the colour light brown, as well as AR30 dublé cable chain.


For this pair of earrings, two oval cubic Zirconia in green and AR30 dublé cable chain have been used. A blog entry with a guide to another long chain earring and semi-precious stone links variant can be found here.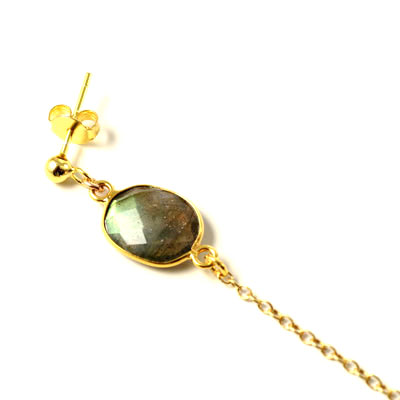 We hope that these examples will inspire you to start designing your own long chain earrings
See other blog entries from Smyks with earchains here:
Earrings with beaded chain and gilded steel