In this jewelry guide, we'll show you how to easily make your own elegant earrings to wear at parties and special occasions, all with Swarovski crystal encrusted pendants and beads from Smyks.com. The earrings displayed here are with gilded silver earwires, but are also available in pure Sterling silver. Here as Smyks, we have our crystal pendants special commissioned to ensure a constant high quality.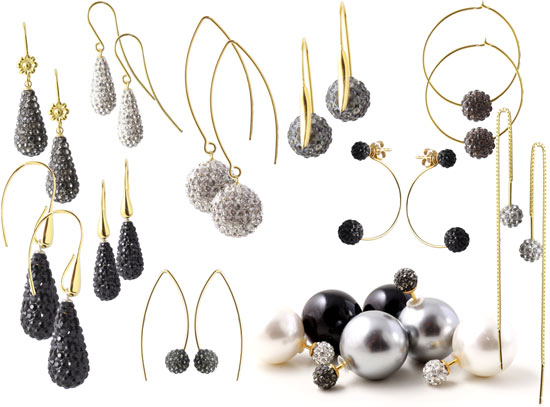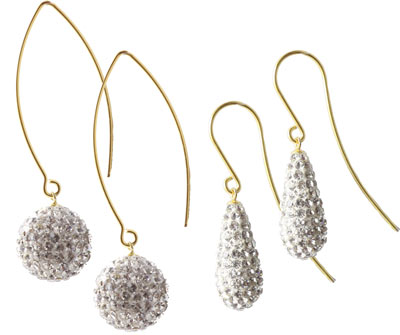 The earrings above don't require other tools than a pair of chain-nose pliers to open and close the eyes on the earwires. The teardrop pendants and the crystal beads all come with a pre-attached eye in either gilded silver or silver, which makes it easy to hang them directly onto earwires or hoop earrings. To make these, simply open the eye of the earwire, slip on the pendant, and close the eye again.
In the examples above, we have used the following materials:
1 pair of long gilded Sterling silver earwires
2pcs. white teardrop-shaped pendant with crystals
1 pair of long oval gilded Sterling silver earwires with eye
2pcs. bead pendant with clear Swarovski crystals
For these earrings, we have used a special type of earwires with a peg that curves upward. Here are the needed materials:
2pcs. black teardrop-shaped pendant with crystals
1 pair of gilded silver earwires, long with curved peg
2pcs. bead pendant with dark grey Swarovski crystals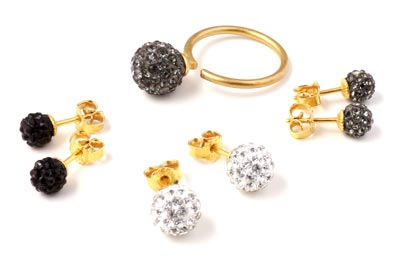 The earstuds and the finger ring shown above can be made with either 6mm, 8mm, or 10mm half-drilled beads in either black, grey or white. We have used Doublé gilded silver earstuds with peg and cup.
Find the following materials in the product categories below:
Glamorous half-drilled Swarovski crystal beads
Finger rings
Gilded silver earstuds with cup and peg – also available in Sterling silver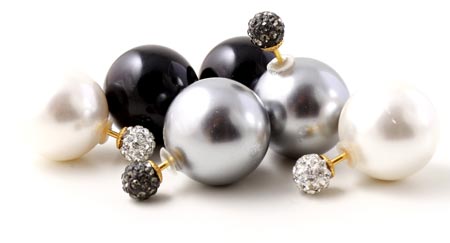 We already have a blog entry on how to make the popular Dior-like earrings with the large pearl behind the earlobe. Just replace the little pearl with a 6mm half-drilled crystal bead to achieve the earrings shown above.
The technique used to the earrings on the left has been covered in our blog entry "Pearl earrings with floating pearl". Only a little dab of glue and a flush cutter is needed besides:
2pcs. half-drilled grey or black 8mm crystal beads
2pcs. half-drilled black 6mm crystal beads
In the example we have used a pair of 25mm gilded silver hoop earrings along with a pair of earstuds with cup and peg.
In the example to the right, we have used a pair of long open oval earwires in gilded silver, and cut off the eyes.
If you have a question or an idea, feel free to leave a comment in the section below.

Enjoy your new earrings.

Smyks