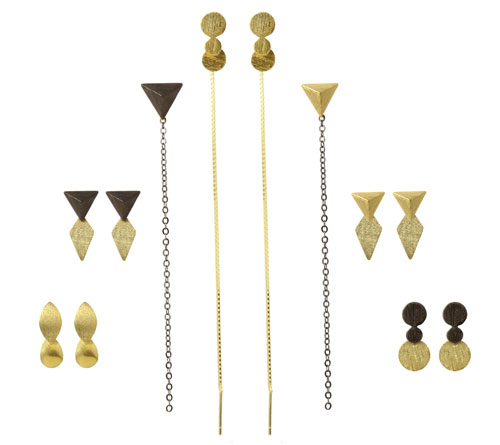 Smyks has just received beautiful new earstuds and silhouettes, all in a hot new design.
Available in Sterling silver, gilded Sterling silver and oxidised Sterling silver.
Here's a little inspiration, showing you how you can combine the different minimalistic shapes and metals, achieving different looks with them.
You can play around with the shape combinations yoursel to find the exact look you want.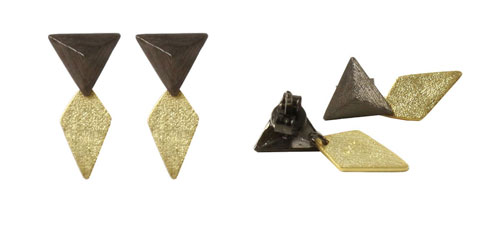 Triangle earstuds.
For these earrings, we have used oxidised triangle earstuds and pointed diamond shapes in gilded silver.
There's a small eye on the back of the earstud which you can carefully cut open, so you can open the eye. Add the pointed diamond to the eye, and then close the eye again.
We have used a pair of Flush-cutter pliers to open the eye – and a pair of chain-nose pliers for closing it again.
Earstuds with round shapes.
For these earrings, we have used oxidised silver earstuds with brushed coin shapes and 8mm brushed gilded sterling silver coins.
Repeat the proccess mentioned above; open the eye, add your pendant, and close it again.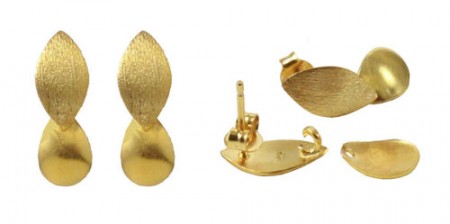 Petal shaped earstuds.
For these stunning and stylish earrings, we've used brushed brushed leaf-shaped earstuds in gilded sterling silver and a polished curved teardrop in gilded silver.
Open the eye on the earstud, add your pendant, and then close the eye.
Because the teardrop pendant ends in a pointed end, you'll have to cut off a little bit of the tip in order for the pendant to move.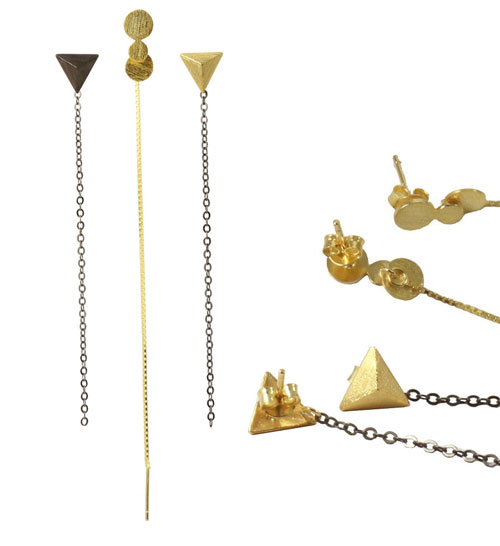 Earstuds with chain.
For the first model, we have used brushed triangle earstuds in both oxidised and gilded Sterling silver, as well as 10cm chain.
Once again, open the eye on the back of the earstud by cutting it open with a pair of Flush-cutters. Next add your chain and close the eye again.
You can also use a pair of earthreads with a peg and eye instead of chain.
For the other model with chain, we have used gilded silver earstuds with coins, gilded 6mm coins and 9cm earthreads with eye and pegin gilded sterling silver.
Cut open the eye, attach first your coin, and then the earthread before finally closing the eye again.
We hope that the examples have inspired you to try out your own designs
All the parts can be combined in numerous ways, the only limit is your imagination.
We chose to use gold and oxidised silver together, but most parts are available in Sterling silver as well, which combines well with either gold or black.
Enjoy your new earrings.
For questions, comments or ideas – write it in the comment section below.