It's that time of year – summer is on its way, which means it's time for summer bracelets.
They are simple and easy to make, so everyone can join in. Choose first your decoration and then what colour cord you want..
The bracelets shown above are closed with a macramé slide knot closing.
If you don't feel like giving macramé a go, we'll also show you how to make a classic clasp closing with glue and cord ends.

Bracelet with twisted ring

Here we have a bracelet made with a clasp and cable chain.
For this bracelet, we have used the following materials:
1pc. twisted gilded brass ring
1pc. size. 2/1.5mm gilded silver chain closing with lobster claw clasp
3cm gilded silver cable chain
+ glue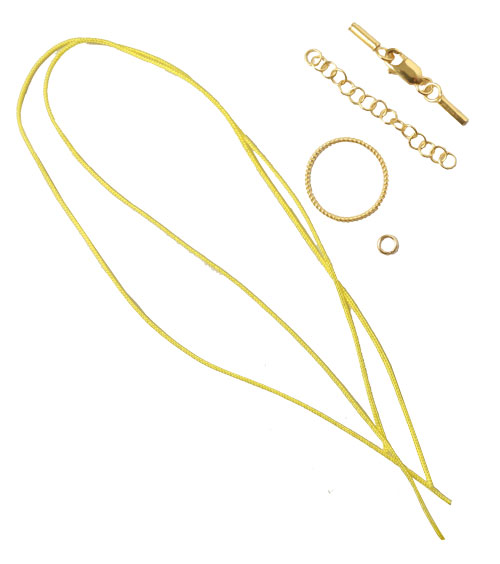 Start out by cutting the cord in two pieces, and put them through the ring as shown in the picture above.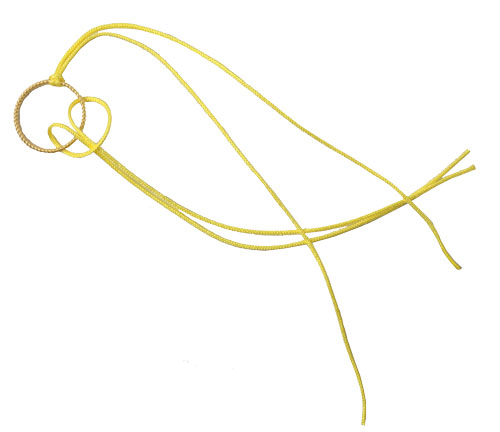 Next cut the ends to your desired length, then melt the ends carefully with a lighter, so they become harder and easier to put into the cord ends.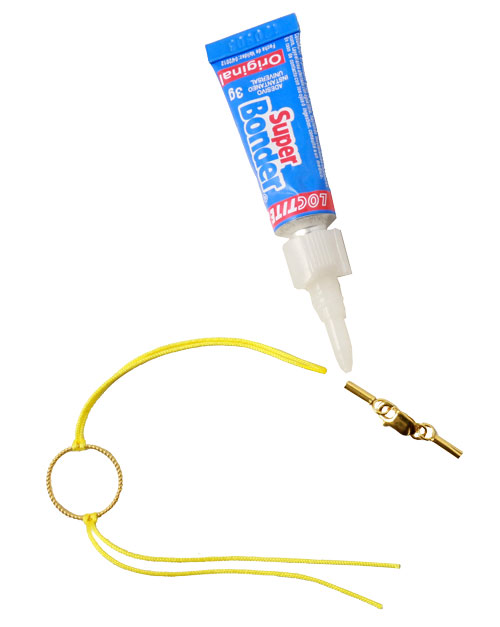 next add a little glue to one of the cord ends and put in the cord using a screwing motion. 2 cords in each cord end. NB: you only need a tiny bit of glue – rather add too little than too much.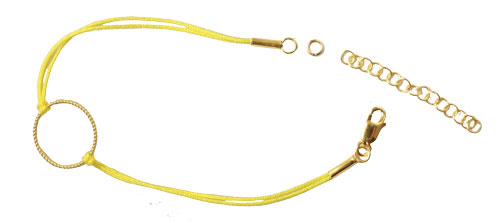 Using the same technique, glue the other part of the bracelet into the other cord end.
Add your cable chain to one of the ends using a jumpring. You can leave out the chain if you'd like, though it makes the bracelet adjustable in length.
Your bracelet is now done and ready to wear.
Bracelets with ceramic stars

For these delicate bracelets, we have used ceramic stars and 0.9mm polyester cord.
If you want the small decorative bead at the end of the knot, as shown, you can use crimp beads.

Bracelets with different charms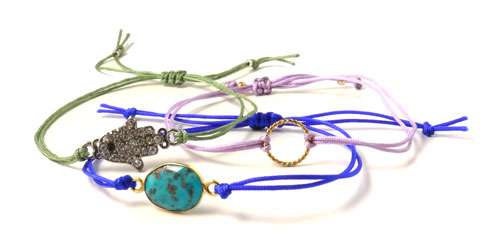 For these bracelets, we have used a Fatima's hand pendant, a gilded silver twisted ring and a semi-precious stone link.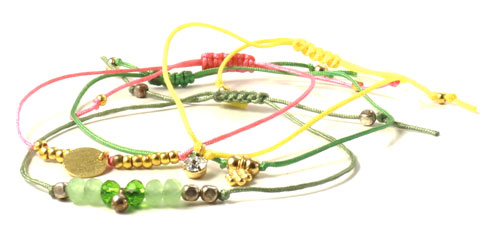 For the light green bracelet, we have used 4 celestial crystals, a gilded sphere pendant, and gilded beads.
For the pink bracelet, we have used gilded crimp beads and a brushed gilded silver coin.
For the yellow bracvelet, we have used a gilded Swarovski crystal pendant.
For the grass green bracelet, we have used 4mm gilded beads and a gilded silver flower with eye.
We hope you were inspired to make your own colourful summer bracelets.
Have a question, comment or idea? Leave it in the section below.