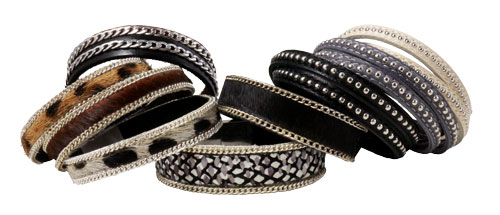 Smyks now offer new and stylish leather with silverplated chains in the webshop .
You can get flat leather with different prints, framed by a narrow silverplated chain, or you can get narrow leather with round studs in.
Make your own bracelet – it's quick and easy, and you can mix and match the different models as you like, to create your own look .
Leather bracelet with magnetic clasp
To make these bracelets we have used leather straps with fur and silverplated chains. Here we have shown a bracelet with dalmatian print, one with leopard print and a brown and black bracelet.
It is fairly simple to make these bracelets. You cut out your leather strap in the desired length, and then glue the ends into the clasp. Here we have used a click clasp in frosted stainless steel.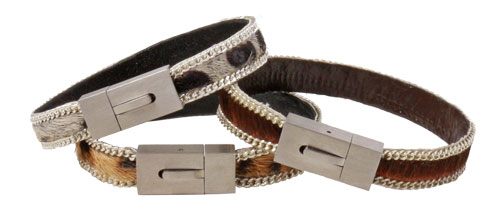 Wide bracelet
The wide bracelet in python print is made the exact same way. Here the ends are glued into a broad magnetic steel clasp.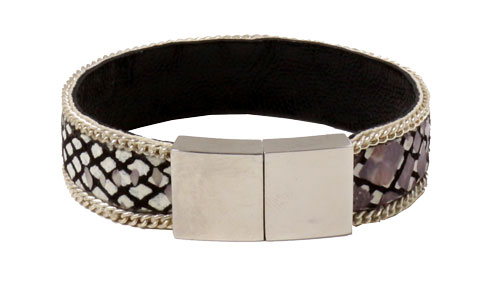 Narrow bracelets with studs
These super cool bracelets are made with nappa leather with silverplated round studs in. The leather comes in black, grey and beige.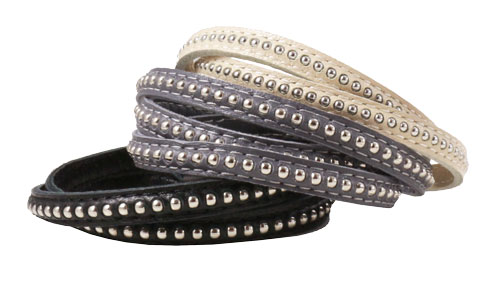 You cut the desired length of leather, and glue the ends into a circular elongated magnetic clasp. Here we have used a steel colored magnetic clasp 4 mm.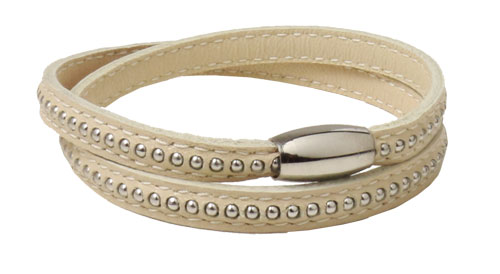 Bracelet with wide steel chain
For this bracelet we used flat leather 10mm black with a steel chain and flat leather 5mm brown with a steel chain. Cut off the desired length and glue both pieces of leather into the same broad magnetic clasp.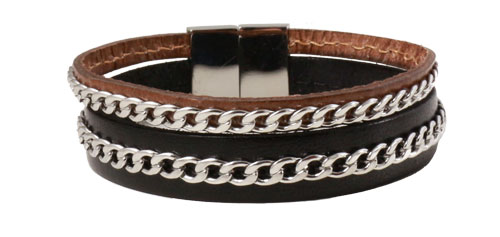 I hope that the examples of bracelets shown above has given you inspiration to continue with your own designs.
For questions, comments or ideas – please write in the comment box below.