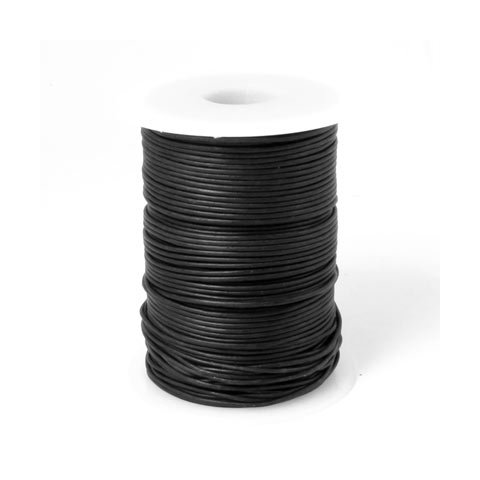 Leather has long been a popular item to work with when making jewelry. There is something about the softness and subtle ruggedness of it that adds a nice contrast to the hardness of the beads and other materials.
It can sometimes be overwhelming or confusing when trying to decide what style to use in your project. Don't worry though, this guide will break down and explain the different types of leather cord.
To start off, leather is regarded as unisex, and is generally used when you require a strong stringing material. However, the easy-to-work-with nature of it allows you to have quite a bit of creative freedom.
Round Leather Cord
The simplest and most common of them, round cord is extremely versatile. It is great if you are looking to create simple, yet pretty, jewelry, such as pendant necklaces and wrap bracelets. It is also perfect for stringing beads or charms onto.
Round cord can be paired fairly easily with a wide array of decorations, making it a safe bet to start off with if you are just starting to explore leather cord. The best way to finish your design when using round cord would be metal cord ends.
Key Takeaways:
Versatile, strong stringing material
Unisex
Various colors and finishes available
Microfiber Suede Cord
A great alternative to leather, suede cord is made from polyester, and looks and feels like suede. It is a flat material, and its extremely soft nature provides incredible comfort, while maintaining a surprising amount of strength.
It is resistant to discoloration and fraying, which means that your jewelry will maintain its quality for an extended period of time. Unlike regular leather, you can wash microfiber suede, and it can be used in a variety of projects.
It is perfect for making bracelets or multirow designs, and is best finished with ribbon crimp ends and clasps, along with several types of lacing and stringing applications.
Key Takeaways:
Soft yet strong
Washable
Durable
Flat Leather Cord
Along with other types, flat leather cord comes in different widths, so you need to keep in mind what width works best for what you are creating. It can come in a more rustic, faded and frayed design, or you can use a sleek and elegant one. The choice is yours.
If you're up for the task, you can create your own breaded cords by using four strips of flat leather and intertwining them. Thinner widths are better for braiding, while wider ones are perfect for cuff bracelets or chokers. You can use practically any type of cord end to finish it off.
Key Takeaways:
Rustic
Many Types
Fits Variety of Cord Ends
Leather Bolo Cord
It's understandable if you don't want to go through the process of creating your own braided cord. This type also comes in a wide variety of finishes and colors, and is perfect for large-holed beads and multirow designs. It is often used for bracelets, and is compatible with many cord ends.
Key Takeaways:
Best for Bracelets
Eye-Catching Design
Thick
Colored Leather
Practically every single one of the types of leather mentioned come in different finishes and/or colors. Due to this, you have an almost unlimited number of ways to create what you want. Different colors allow you to experiment with different types of beads and charms, and the different finishes help set the tone of the jewelry.
Combine this with the various types of leather cord, and there are countless ways to make unique pieces of jewelry. The cord serves as your base, from which you create the rest of your work, so it is always important that you use quality materials. Having the correct leather is as important as choosing the right beads or other decorations you put on it, so always keep that in mind.
Whichever style you choose, we hope that you found this guide helpful. Our goal is to provide you with information and materials so that you can focus on creating unique and amazing jewelry. Remember that jewelry making is meant to be fun, so go explore the endless possibilities and unleash your creativity.