Below is shown how to make creative and original earrings with real salmon fish skin.
Smyks has a wide selection of fully dyed salmon skin in beautiful colours for cheap. You can cut out patterns and figures out of these fish skins and use them for jewelry making, the possibilities are plentiful. In the following entry we'll give and example on how you can make a pair of trendy earrings with dyed salmon skin and rustic coins as decoration. See also the related jewelry guide on Smyks' blog for necklaces with fish skin pendants.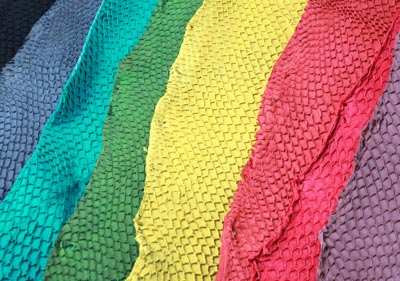 You will need the following materials:
A piece of fully dyed salmon skin
A template
3pcs. 6mm gilded jumprings
2pcs. 6mm gilded coins
Gilded silver earstuds with a flat pad (materials for 1 pair of earrings)
An awl
Jewelry adhesive
Scissors or an X-acto knife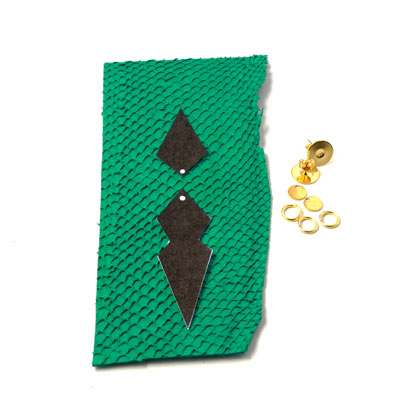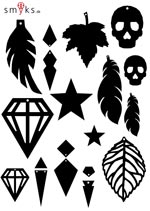 You start out by cutting the template out of paper. Then you draw it on the backside of the salmon skin with a pencil and next it is cut out of the skin with a pair of scissors. Glue the two coins onto the skin, make sure the holes in the coin are placed as shown. Use an awl to pierce the skin through the eye of the coin. Put a jumpring through each coin.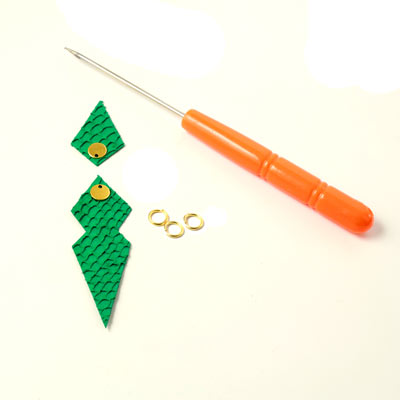 Use the last jumpring to attach the two pieces. Lastly glue the earstud onto the backside of the top part of the earring. Make the other earring the same way. Because the glue can bleed through the skin and discolour it, we advise you to only use a sparse amount of glue on the earstud which is placed right behind the coin so that i cannot be seen.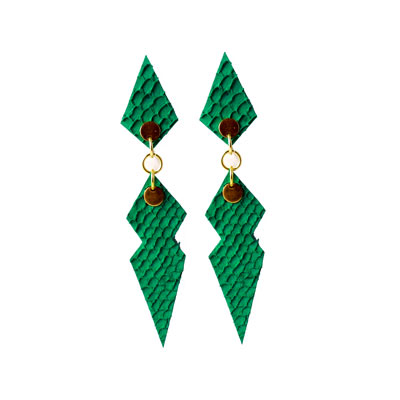 Your earrings are now finished. You can use Smyks' templates which can be downloaded from the material list above, or you can experiment with the shapes and create your own designs.
Enjoy.