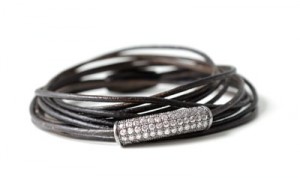 Make your own simple and delicate bracelets or necklaces with Smyks' curved tubes with zirconia (quality crystals) in silver plated, black or gilded.
You can, as seen in this layered bracelet, put a tube on one of the strings and then glue all the strings into a magnetic clasp.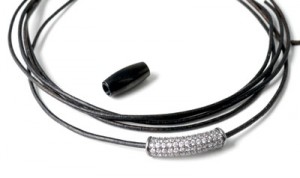 You will need:
1 tube of your choice
Leather cord 1.5mm (5 x approx. 34cm)
First feed one end of the leather cord through the tube, then glue the 5 leather cords together at each end. Then glue the ends into the magnetic clasp. It's quick and easy to make this bracelet, you can also use the same guide to make a necklace.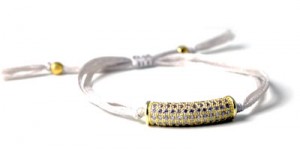 For this bracelet, we used 3 pieces of silk cord. You place the tube in the middle of the strings and tie a knot on each side of the tube, then you end it with a macramé closure and put 1 gilded disco ball of 5mm at each end. The easiest way to get the silk cord through the tube is if you use a wide-eyed needle.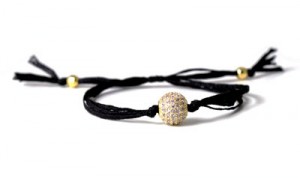 For this bracelet is also used silk cord and a 10mm gilded bead with clear zirconias.