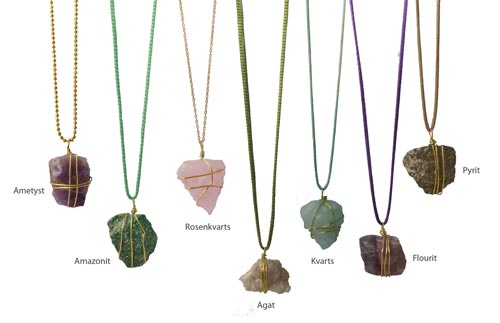 Smyks has acquired an exquisite new selection of rough semi-precious stones.
The stones are without holes and are therefore suitable for necklaces, where you wrap wire around the stone and in doing so, create your own decorative necklace.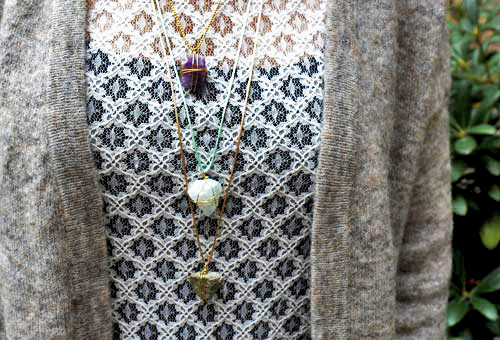 Necklace with rough agate and silk wire
For this necklace, the following materials were used:
1 pc. rough semi-precious stone without hole( this example uses the electroplated agate)
(the rough semi-precious stones are sold in a pack of 12 pcs.)
ca. 25cm gilded copper wire, 0,6mm
(while you can use every kind of wire, 0,6mm is recommended)
ca. 80cm woven nylon cord, sand/grey colored
+ round-nose pliers
+ 2 x chain-nose pliers
+ side-cutter pliers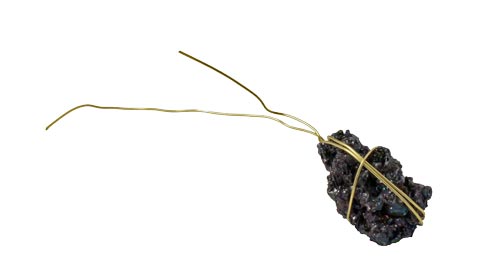 You begin by wrapping the wire around your stone. You make the pattern of your own choosing. When you are done wrapping, both ends of the wire has to be positioned right next to each other – this will be where you want the "eye" to be located.

Here you see the backside of the stone. There is no definitive way of doing this. You will have to experiment and see, which way suits your tastes the best.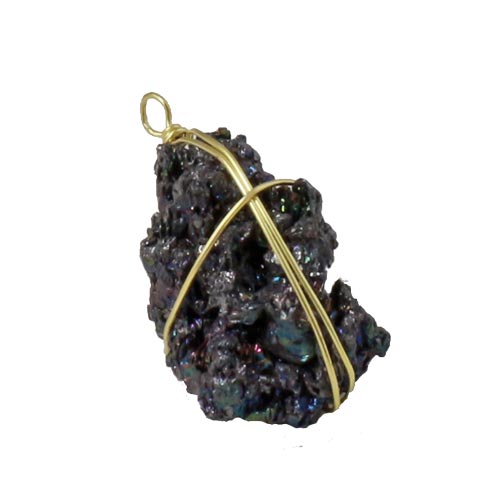 After finding your pattern, you will now have to use the two ends of the wire to produce the aforementioned "eye". Remember to turn the "eye" in the right direction. This would be in accordance to the direction you want the stone to hang.
Here you can see smyks guide to making the "eyes".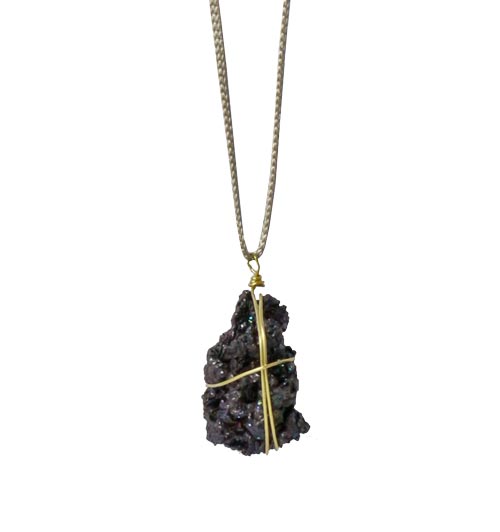 With the "eye" done, you now pull the cord through it. In this example, the cord iss tied in a knot behind the neck, but you can also choose to glue a lobster claw in the end of it.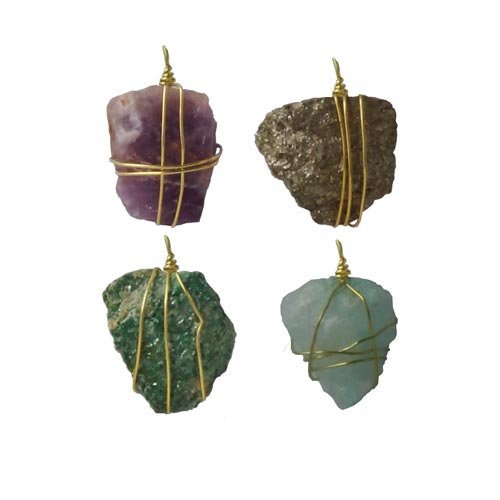 Here are some examples of different wire patterns and how much of a visual difference there can be, just from wrapping the wire around the stone in various ways.
Enjoy your new necklaces.
For questions, comments or suggestions – please write in the commentary field below.