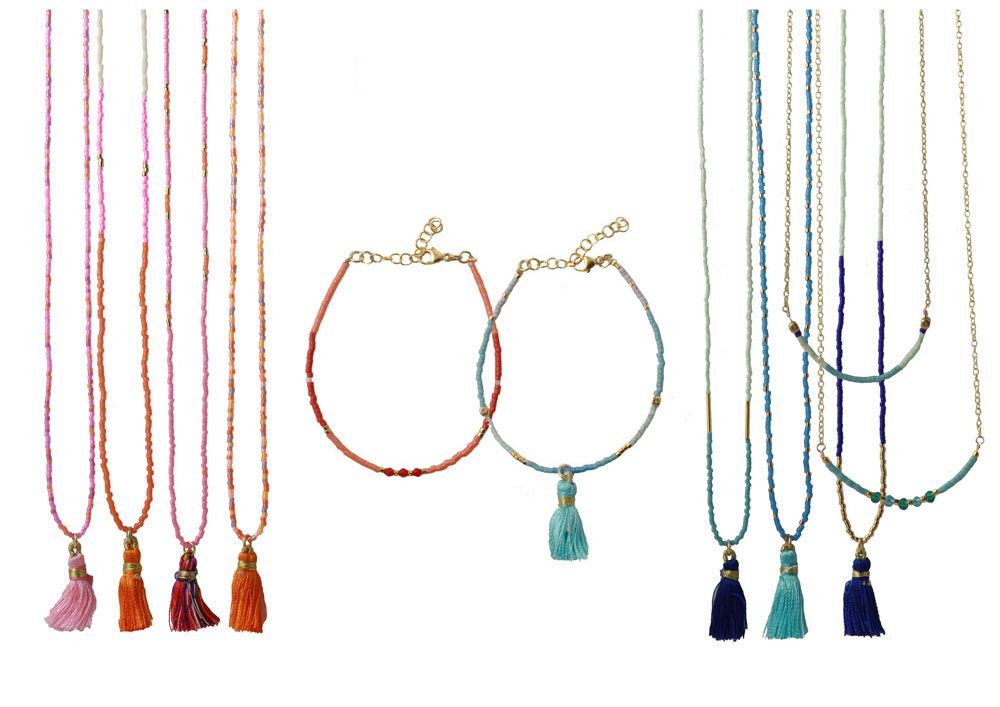 Delica beads are still a big hit and are available in a wide array of different colours. We have made a small collection, which we hope inspires you to make your own jewelry using Delica beads.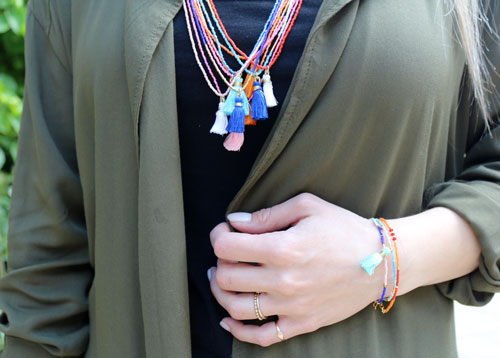 Delica necklace with tassel.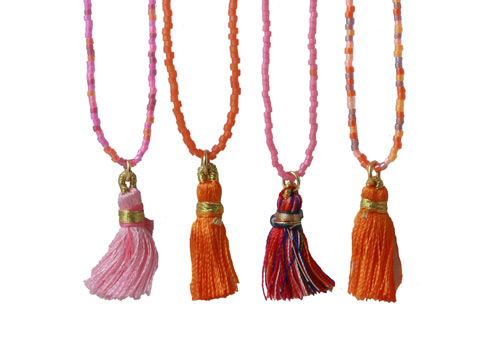 Here are a few examples of some Delica necklaces with cute tassels.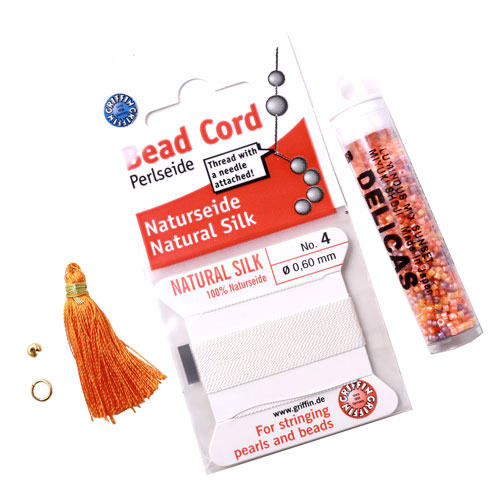 To make a Delica necklalce with a tassel, you'll need the following materials:
Mixed orange Delica beads
1pc. orange tassel
White 0.60mm silk thread
1pc. gilded 6mm jump ring
1pc. gilded 3mm crimp cover
+ glue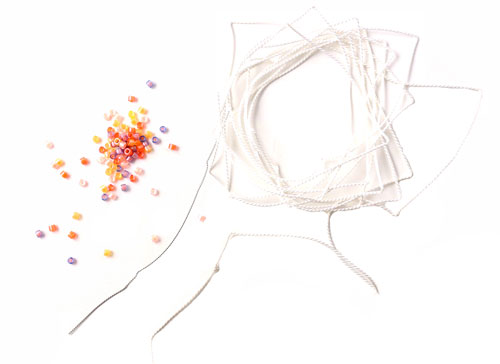 The spool of silk thread contains 2 metres, and the thread has a needle at one end. Start out by tying a knot in the end of the thread.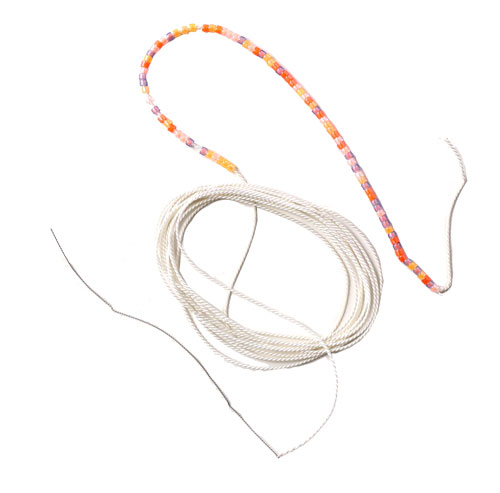 Then wet the thread and straighten it out, smoothing out the kinks and bends. If you don't straighten out the thread first, it will make your necklace crooked, as the beads don't weigh a lot. Then you can thread your beads. Continue until your necklace is approx. 80cm long.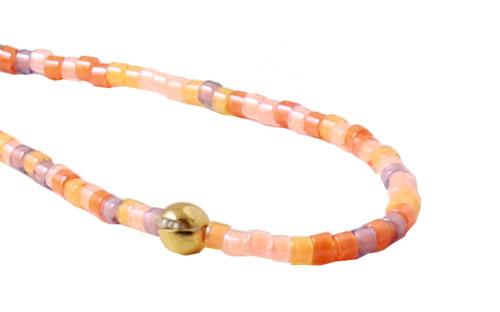 Then tie the ends together with a simple knot. Put a dab of glue on the knot to secure it.
Then carefully close the crimp cover over the knot. For this, you can use a pair of chain-nose pliers.

Now attach the tassel to your necklace. We chose to trim the tassel shorter. You attach the tassel to your necklace with a jump ring.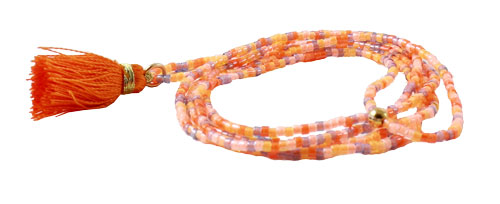 Your summer necklace is now done and ready to be worn.
Delica necklace with chain.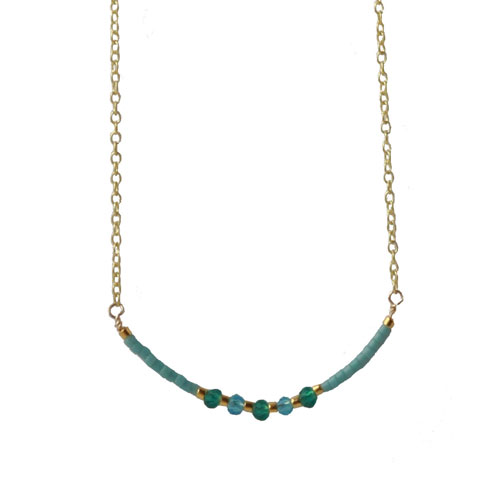 This is another elegant necklace, made with Delica beads, small celestial crystals and gilded chain.
Til denne kæde er der brugt følgende materialer:
60cm gilded AR30 cable chain
approx. 15cm doublé gilded 0.5mm wire
Delica bead, matte turquoise
Delica bead, 24K light cool gold
3pcs. Celestial crystal, 3mm sky blue
3pcs. Celestial crystal, 3mm forest green
Start by making a simple eye on your wire.
Before you start twisting the wire underneath the eye, insert the cable chain into the eye. Next add your beads, then make another eye and insert the cable chain again before twisting the wire to finish and secure the wire.
Your necklace is now done.
We have used 60cm cable chain for this necklace, which means you can take it off without using a clasp. If you would like a shorter necklace, you'll need to add a clasp. Smyks has just now received a small selection of 3mm Swarovski crystal bicones. They are excellent to use together with the Delica beads.
Delica bracelets.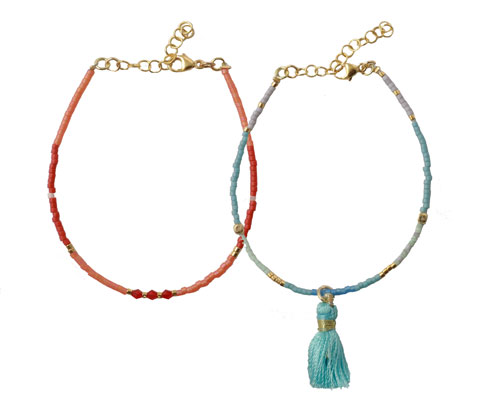 You can easily make these bracelets for yourself. These bracelets use the same technique shown in our previous blog entry: Mini-bracelets with Delica beads. In the red bracelet, we have also used a red 3mm Swarovski Crystal bicone.
Delica Container box.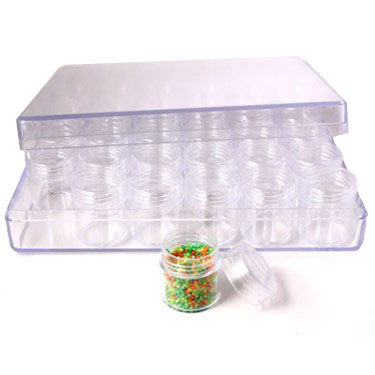 You can now buy a really great high quality container box with 30 glasses for your Delica beads from Smyks. Each glass has a twist cap and can contain 1 tube of 7.5 grams of Delica beads each.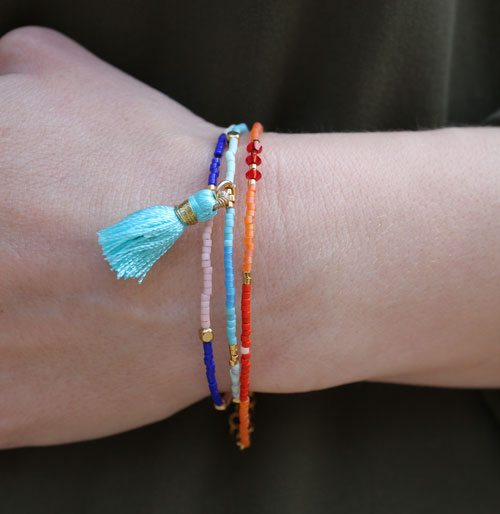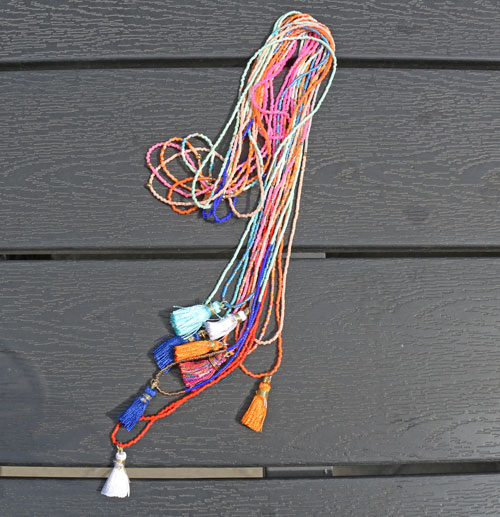 Enjoy your new Delica creations.
Feel free to leave a comment, question and critique in the section below.